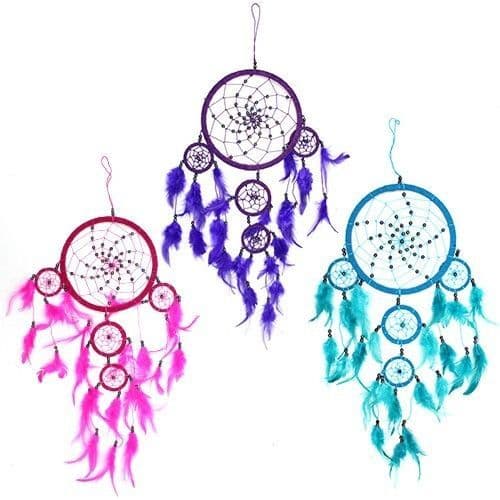 Ancient Wisdom - Bali Dream Catcher CLEARANCE
Beautiful hand-crafted Dreamcatcher with faux suede detail, beads and matching feathers. 
Available in Purple, Turquoise or Pink. Top ring 17cm diameter, total length hanging is 55cm. Dream Catchers are a lovely way to help kids cope with nightmares!

Simply hang in your child's window or above the  bed, and share the story of these magical webs.

Your dream catcher's job is to catch all the nightmares and nasty dreams that keep you awake at night. it will catch them in it's web and hold them tight until morning so you can get a good night's sleep. When the morning comes, all the bad dreams will burn away in the morning sunlight, never to be seen again.

Please note - This item is not a toy and should be hung up by an adult out of children's reach. Not suitable for small children as small parts could be a choking hazard.