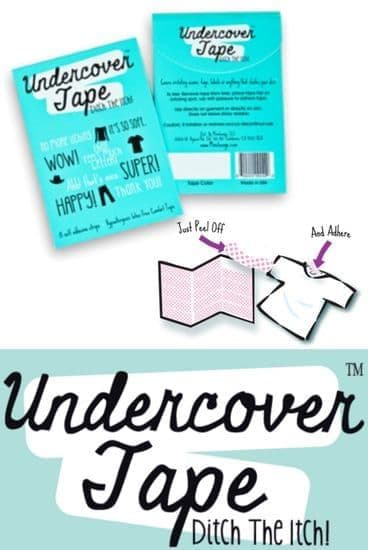 The Best Quick-Fix for Seams and Labels
One of the questions we get asked the most here at Sensory Smart is "How do I make clothes more comfortable for my child?!"
School uniform, specific outfits, costumes and uniforms for clubs, classes and groups can cause real problems for sensitive and sensory kids who just want to fit in and wear the same as everybody else.
Seams, labels, uncomfortable folds and bumps in fabric can all be a nightmare for anyone struggling with a Sensory Processing Disorder.
As a parent you want to help make your child's clothes at least tolerable, but how?
Well, one of our favourite go-to products for a quick fix is Undercover Tape.
Each pack contains either 15 plaster-sized sticky back strips or three 14cm x 8cm uncut pages that you can cut to the size and shape you need.
How does it work?
Undercover Tape does just what it's name suggests – it's a self adhesive product that literally covers up the problematic part of the garment and creates a soft and comfy barrier so skin doesn't get chafed, itched or rubbed.
Here are some great examples of how to use this clever product:
Scratchy label that you can't cut out? No problem! Stick a piece of undercover tape over the top and cover it up!
Itchy seams under the armpits? Pop some undercover tape over the nasty bits and breathe a sigh of relief!
You can use this clever and soft sticky tape to cover up any part of any garment that rubs or causes discomfort.
It'll even survive up to 5 washes so you won't have to replace it each time the garment is worn!
Who is it for?
The short answer is EVERYONE! We've all experienced clothing with nasty labels or seams that rub or chafe.
We recommend Undercover Tape in particular for kids who struggle with sensitivity to clothing especially seams, labels, lumps and bumps. It's a real life-saver product that will save tears and tantrums in kids of all ages.