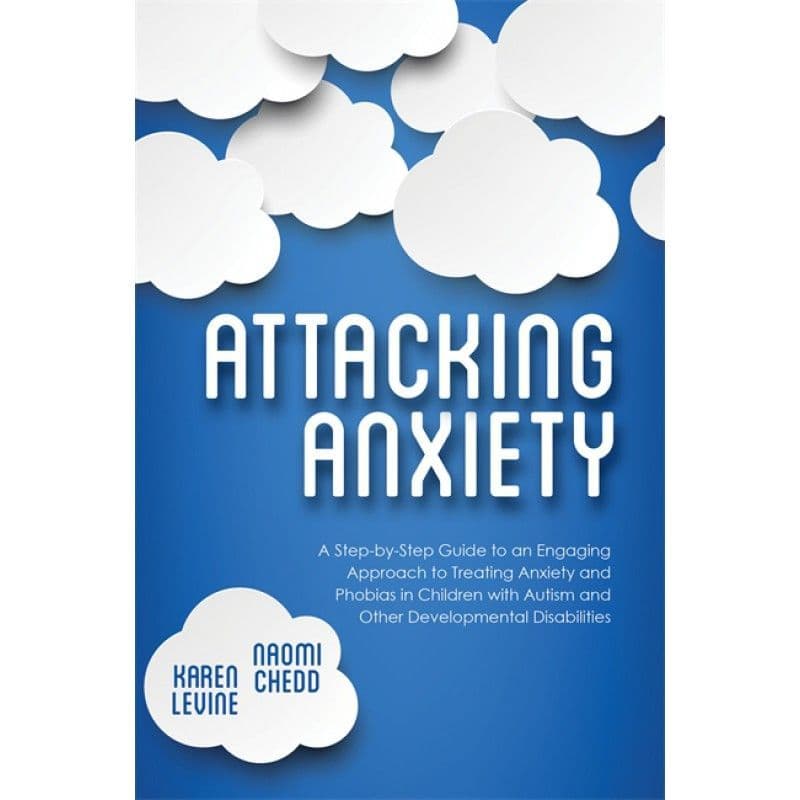 Book Title - Attacking Anxiety
Save

Liquid error (snippets/product-badge line 32): Computation results in '-Infinity'

%
SubTitle- A Step-by-Step Guide to an Engaging Approach to Treating Anxiety and Phobias in Children with Autism and Other Developmental Disabilities
Authors- Karen Levine and Naomi Chedd
This book presents an enjoyable, simple model for tackling anxiety in children and teens with ASD, by building up tolerance to anxiety triggers, decreasing meltdowns and eliminating anxiety responses to fears and phobia. It covers common scenarios which can be adapted to suit the needs of each individual child or teen.
Drawing on the principles of Cognitive Behavioral Therapy (CBT), this book sets out a clear, enjoyable, step-by-step approach for addressing the sorts of anxieties, fears and phobias that are so common in children and teens with Autism Spectrum Disorders (ASD) and related challenges.
Using this easy-to-follow model, parents and professionals will have the tools they need to help children and teens cope with and sometimes overcome anxieties caused by everyday occurrences. The book covers seven common scenarios, from fears of environmental sounds and visiting the doctor or dentist, to anxieties around transitions, changes to schedules and an intolerance for making mistakes. The model can be adapted to suit almost any anxiety or phobia and is ideal for use at home, at school and in clinical settings where it can be integrated into a variety of treatment approaches and styles.
Designed to help parents of children with autism spectrum disorders and the teachers and therapists who work with them, this book is an excellent resource for successfully alleviating many of the anxieties and phobias that interfere with life enjoyment, not only for the child but for the entire family.

Reviews:
'The peaceful cover well expresses Levine and Chedd's gentle and effective approach to resolving anxiety and phobias in children with developmental difficulties. By showing how to break child's fears down into more tolerably-sized "chunks," they provide a means of keeping the child engaged in the therapeutic work, preventing the frequent dropouts of behavioral treatment. While they designed a method for children with special needs, it will enhance the treatment of any child or teen with anxiety or phobias. Clear and direct enough to instruct a beginning clinician, it is rich and innovative enough to teach experienced therapists.'
- Richard Bromfield, PhD, Harvard Medical School, author Doing Therapy with Children and Adolescents with Asperger Syndrome and Embracing Aspergers
'This is a lovely book, which has many ideas applicable to neurotypical children as well. Brilliant for toddlers tantruming (I have toddler grandsons aged one and two, and am already having conversations with the hand-dryer in the church lavatory - wonderful!)'
- Carolyn Holleyman, Grandmother of three toddler boys
'Too often children with autism are viewed through the lens of the condition, with their challenges seen purely as 'behaviour'. However, anxiety is such a key issue for so many individuals on the autism spectrum that it becomes essential to treat it as an individual and individualised 'thing' rather than largely disregarded simply as part of the diagnosis. This book is a welcome and much needed addition to a field of literature on treating the core symptoms of autism in an emotionally-centred and child-friendly way. Levine and Chedd have made a largely misunderstood, but essential part of autism treatment accessible to professionals and parents alike. They offer a practical, effective way to approach and treat anxiety in autism. Most importantly children and the professionals that treat them will also have great fun attacking anxiety together!'
- Ruth Glynne-Owen, Founder and Chief Executive, Speur-Ghlan Early Intervention Service, Scotland
'A highly creative approach, combining classic exposure with symbolic play for children often considered very difficult to treat. Professionals and parents will find the depth of expertise and clinical pearls shared by the authors very accessible and feasible. Especially helpful are the many detailed examples and many ideas for implementing the treatment for a broad range of fears. A valuable resource that I will use often!'
- Aureen P. Wagner, Ph.D., Director, The Anxiety Wellness Center, author of Worried No More and What to Do when your Child has OCD
'This book really is easy to access for parents and professionals, and a great tool for all parties to work together... Reading the book through was enough to give me some new ways of approaching anxiety/OCD strategies straight away. Really useful!'
- Mel Thomsett