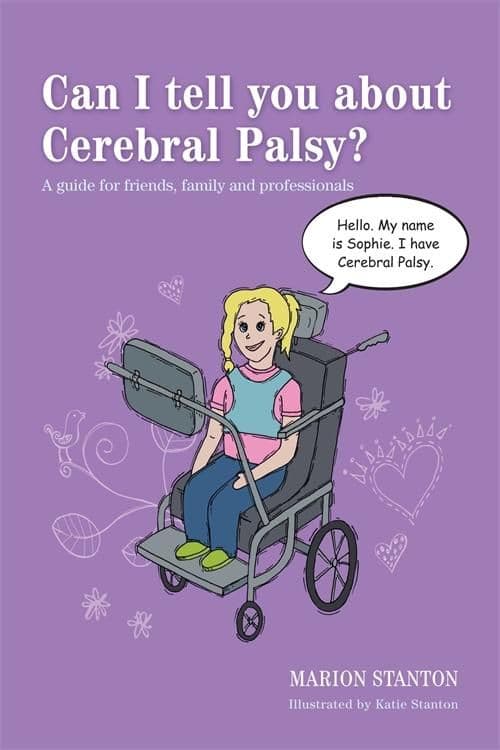 Book Title - Can I tell you about Cerebral Palsy?
Save

Liquid error (snippets/product-badge line 32): Computation results in '-Infinity'

%
SubTitle- A guide for friends, family and professionals

Author- Marion Stanton
Illustrator- Katie Stanton


Description-
Meet Sophie - a girl with cerebral palsy (CP). Sophie invites readers to learn about CP from her perspective, helping them to understand what it is like to use a wheelchair to move around and assistive technology to communicate. She also introduces readers to some of her friends who have different forms of CP and explains that living with CP can sometimes be difficult, but there are many ways she is supported so that she can lead a full and happy life.

This illustrated book is ideal for young people aged 7 upwards, as well as parents, friends, teachers and professionals working with children with CP. It is also an excellent starting point for family and classroom discussions.

Reviews:
'This delightful book gives an insight for someone new to working with children with cerebral palsy. I would recommend this book to students of healthcare or special education or those recently employed in the fields of health, social care or education. This book provides an insight into the lived experiences of a child with cerebral palsy and is practical, describing how to facilitate their achievements in an empowering way.'
- Dawn Pickering, Lecturer in Physiotherapy, Cardiff University, School of Healthcare Sciences

'
Marion Stanton clearly describes the importance of actively working with individuals who experience life with cerebral palsy. Their experience is and will always be quite unique from the experience of another person who experiences life with cerebral palsy. This requires an active and meaningful engagement with the person, which is respectful of the person and of their communication. This is what Marion Station demonstrates throughout her book. Her approach unfortunately, remains quite unusual and all the more compelling for that reason.
It should be a must read for people who are interested in the area but more particularly professionals who profess to know about cerebral palsy without their knowledge being informed by the individuals who experience it.
I full commend the book and Marion's approach to its compilation.
'
- Joe Whittaker, Chairperson with The Alliance for Inclusive Education
'Here in we meet bright, thirteen year old Sophie, who uses a wheelchair, and a talking computer... Sophie talks in a matter of fact voice about the reason for her own cerebral palsy and how this affects her... At the end is a section with suggestions for how teachers, teaching assistants, family members, PAs, community members and other professionals can be supportive. There is also a list of recommended organisations and websites. All this and much more is packed into this short book written by a special needs teacher and mother of a child with cerebral palsy... Highly recommended for teachers, and for students in the fields of social care, health and education as well as young readers in primary schools. In fact it is an excellent starting point for anyone wanting to know more about working with individuals living with cerebral palsy.'
- Red Reading Hub blog by Jill Bennett
'Sophie is 13 and has a severe form of Cerebral Palsy. She can't talk or use her arms or legs, but she is very smart and "with it", an uses a VOCA, a talking computer... She explains lots about the various forms of CP... about difficulties... There are tips for families, for teachers and teaching assistants, for personal assistants and carers and for professionals and therapists, and at the very end of the book there is a comprehensive international lists of charities and organisations for support.'
- Healthy Books blog