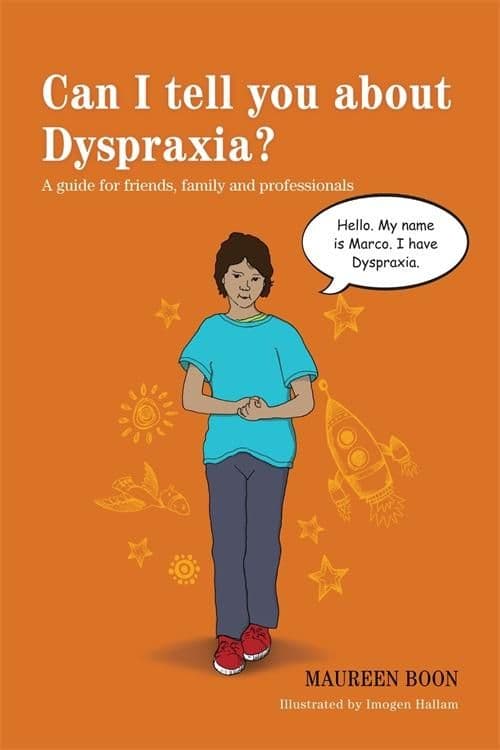 Book Title - Can I tell you about Dyspraxia?
Save

Liquid error (snippets/product-badge line 32): Computation results in '-Infinity'

%
SubTitle- A guide for friends, family and professionals
Author- Maureen Boon
Illustrator- Imogen Hallam

Meet Marco - a boy with dyspraxia, which is sometimes called Developmental Co-ordination Disorder (DCD). Marco invites readers to learn about dyspraxia from his perspective, helping them to understand what it is and what it feels like when he sometimes struggles to control his movement and co-ordination. He talks about the challenges of having dyspraxia and lets readers know how he can be helped and supported.

This illustrated book will be an ideal introduction for young people, aged 7 upwards, as well as parents, friends, teachers and professionals working with children with dyspraxia. It is also an excellent starting point for family and classroom discussions.

Reviews:
'A wonderfully useful little book! Demystifying, non-patronising, and with loads of practical suggestions for parents, teachers and dyspraxic children themselves.'
- Sue Palmer, literacy specialist and author of Toxic Childhood

'The book is written in an accessible style from the perspective of a teenager who has dyspraxia. It is powerful to read about the main issues for children written in their own voice. Many children as well as their friends and families would find it helpful and reassuring that they are not the only one who faces the difficulties described by Marco.'
- Kate Ripley, Senior Specialist Educational Psychologist, author of Inclusion for Children with Dyspraxia/DCD and co-author of Dyspraxia: A Guide for Teachers and Parents

'Marco has dyspraxia, and this interesting and well written book explains many of the problems he must deal with... He gives lots of hints about how to help him - and things he does to help himself... We are given some facts about dyspraxia - and about verbal dyspraxia - and at the end of the book there are lists of ways parents, teachers and friends can help. There is also an excellent list of useful organisations, many of them international. There really should be a copy of this book in every school.'
- Healthy Books blog

'
Marco talks frankly about what it's like to have dyspraxia or Developmental Coordination Disorder (DCD), a condition more common in boys... We are told about the early signs of dyspraxia: sound sensitivity, lateness in getting to one's feet and restless nights are possible indicators, as is difficulty sitting in one place... In addition to Marco's narrative there are several lists outlining how parents, teachers, and other children can help those like him, as well as a bibliography and list of supportive organisations.
Written by an ex headteacher of a school for physically challenged children, this little book provides a straightforward, reassuring outline of DCD and ways in which others can be supportive.
'
- Jill Bennett
'This book provides young people with an opportunity to learn about dyspraxia. It is written from the perspective of a boy called Marco who has dyspraxia... Marco provides the reader with clear information about what dyspraxia is, what it is like to live with dyspraxia and what support might be needed to help... This book is aimed at children and young people aged over eight years old. It is clearly written and full of practical strategies and interventions. It will be useful for children with dyspraxia, their friends, their peers, their families, their school staff and other practitioners.'
- Sonia Murray