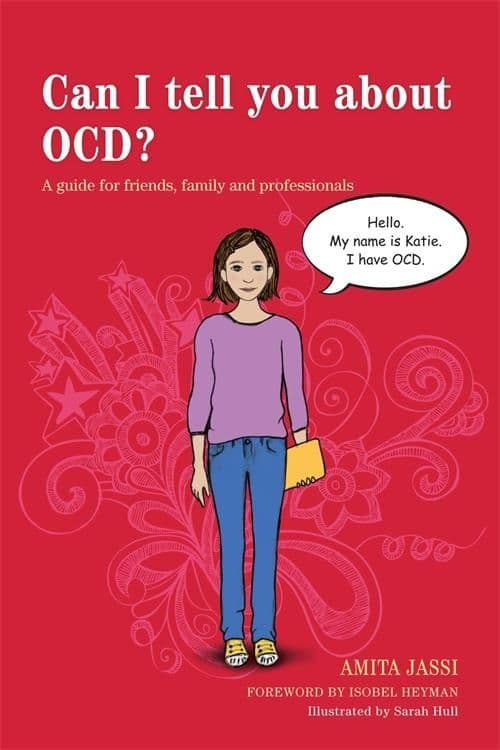 Book Title - Can I tell you about OCD (Obsessive Compulsive Disorder)?
Save

Liquid error (snippets/product-badge line 32): Computation results in '-Infinity'

%
SubTitle- A guide for friends, family and professionals
Author- Amita Jassi
Forewords- Isobel Heyman
Illustrator- Sarah Hull
Meet Katie - a teenager with Obsessive Compulsive Disorder (OCD). Katie invites readers to learn about OCD from her perspective, helping them to understand what it is, how her obsessions and compulsions affect her daily life, and how people around her can help.
With illustrations throughout, this will be an ideal introduction to OCD for both young people and older readers. It shows family, friends and teachers how they can support someone with the condition and will be an excellent way to start a conversation about OCD, in the classroom or at home.
Reviews:
'I found these books (Can I tell you about OCD? And Can I tell you about Dementia?) easy to read and informative making them and extremely useful and valuable addition to any school library, and they definitely fill a gap in the market.'
- The School Librarian
'This is one of the best books on OCD that I have ever read, describing the essentials for children and affected adolescents. A must-read also for parents and professionals!'
- Per Hove Thomsen, Clinical Professor, M.D., Dr.Med.Sci., Psychiatric Hospital for Children and Adolescents, Risskov, Denmark
'This little gem is really accessible yet rigorous. A great source of information for young people with OCD, their families and teachers.'
- Professor David Mataix-Cols, Ph.D., Professor and Consultant Clinical Psychologist, Institute of Psychiatry, King's College London
'Obsessive compulsive disorder is a common and very impairing condition that impacts millions of children worldwide. The presence of this condition and how to successfully navigate its treatment is often confusing for affected individuals and their families. "Can I tell you about OCD?" fills a gap in the literature by providing an easy-to-read, fun, and informative book about OCD, its treatment, and how loved ones can help. This book is a must-have for families of a youngster with OCD.'
- Eric Storch, Ph.D., All Children's Hospital Guild Endowed Chair, Professor, Departments of Pediatrics and Psychiatry & Neurosciences, University of South Florida
'This little book fills an important gap in the current literature available for children and teenagers with obsessive compulsive disorder...It will not only be a great relief to young people and their friends and families, who are trying to understand and deal with obsessions, but also to therapists.'
- From the Foreword by Dr Isobel Heyman, MBBS, PhD, FRCPsych, Honorary Consultant Psychiatrist to the National OCD Service for Young People, Maudsley Hospital London, and Consultant Psychiatrist, Great Ormond Street Hospital for Children
'With illustrations throughout, this will be an ideal introduction to OCD for both young people and older readers. It shows family, friends and teachers how they can support someone with the condition and will be an excellent way to start a conversation about OCD, in the classroom or at home... Friendly characters invite readers to learn about their experiences of living with a particular condition and how they would like to be helped and supported. These books serve as excellent starting points for family and classroom discussions.'
- In Our Hands blog
'It gives a very good overview for someone just beginning to understand the condition whether they are an adult or a child...for a young person who had previously felt lost and alone with these thoughts and behaviours, this could feel very reassuring and for many it may act as the first stepping stone towards engaging in treatment and working towards recovery.'
- Pooky Knightsmith