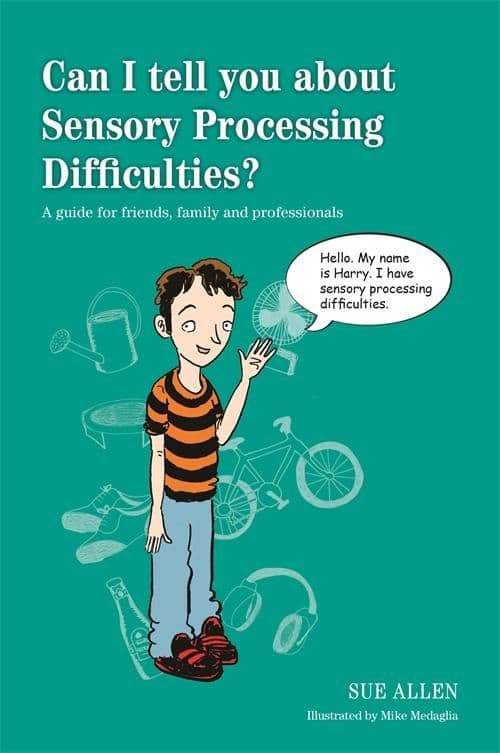 Book Title - Can I Tell You About Sensory Processing Difficulties (SPD)?
Save

Liquid error (snippets/product-badge line 32): Computation results in '-Infinity'

%
SubTitle- A guide for friends, family and professionals
Author- Sue Allen
Illustrator- Mike Medaglia
Part of the  'Can I tell you about....' series
Harry explains what happens when the sensory information that we all process throughout the day does not transmit smoothly and leads to challenges in learning, movement or behaviour. He talks about how he can be helped at home and at school and the different types of sensory processing challenges that other children can face.
Meet Harry - a young boy with sensory processing difficulties. Harry invites readers to learn about why he finds it hard to process sensory information effectively, and how even simple thing such as washing, dressing and coping with meal times can be challenging for him. He also talks about difficulties he faces at school and why large groups and loud noises are especially hard. He explains how other people can have different sensory processing issues and talks about what he and those around him can do to help.
This illustrated book is ideally suited for readers aged 7 and upwards and occupational therapists, teachers, parents, family members and friends of those with sensory processing difficulties.
Reviews:
'Many people focus on the "difficulties" in sensory processing difficulties. This book provides a more positive approach to what is, after all, just another way of perceiving the world. As Harry, one of the characters in the story, says, "...there are ways that I can make everyday life easier and more fun." With his sister, Anna, who also has sensory processing difficulties, they describe the challenges they face and how they manage them.'
- Dr Greg Kelly, Course Director for the Postgraduate Certificate/Diploma/MSc in Sensory Integration, Ulster University
'This simple book will provide some relief - the relief that comes with understanding. At last, this difficulty has a name, and I can have a bit of insight into what is going through my child's mind when they respond in some of these ways. Sue Allen has written the perfect primer on this condition. It is a great stepping stone for all of us to be better positioned to help our children.'
- Jamie OConnor, homeschooling mother of 5
'Sue Allen's book will be an invaluable resource for children with sensory processing difficulties and for the adults who support them. Concepts are explained using day-to-day examples that children will easily relate to, and the book is full of practical ideas to try. Most importantly, the book offers a positive picture of living with SPD and will help to demystify this condition for both children and adults.'
- Dr Fiona Knott, Associate Professor in Clinical Psychology, University of Reading
'This small book shares a wealth of knowledge and insight developed over the past 50 years by therapists in the field of sensory integration. Sensory processing difficulties are explained from the child's point of view using everyday language, and each page is packed with practical and effective strategies for improving daily life. Information is presented in a child-friendly format, complemented by additional material for parents and teachers. International resources are provided for those who want to go deeper. Strongly recommended!'
- Diane Parham, PhD, OTR/L, FAOTA, Professor at the University of New Mexico, Occupational Therapy Graduate Program