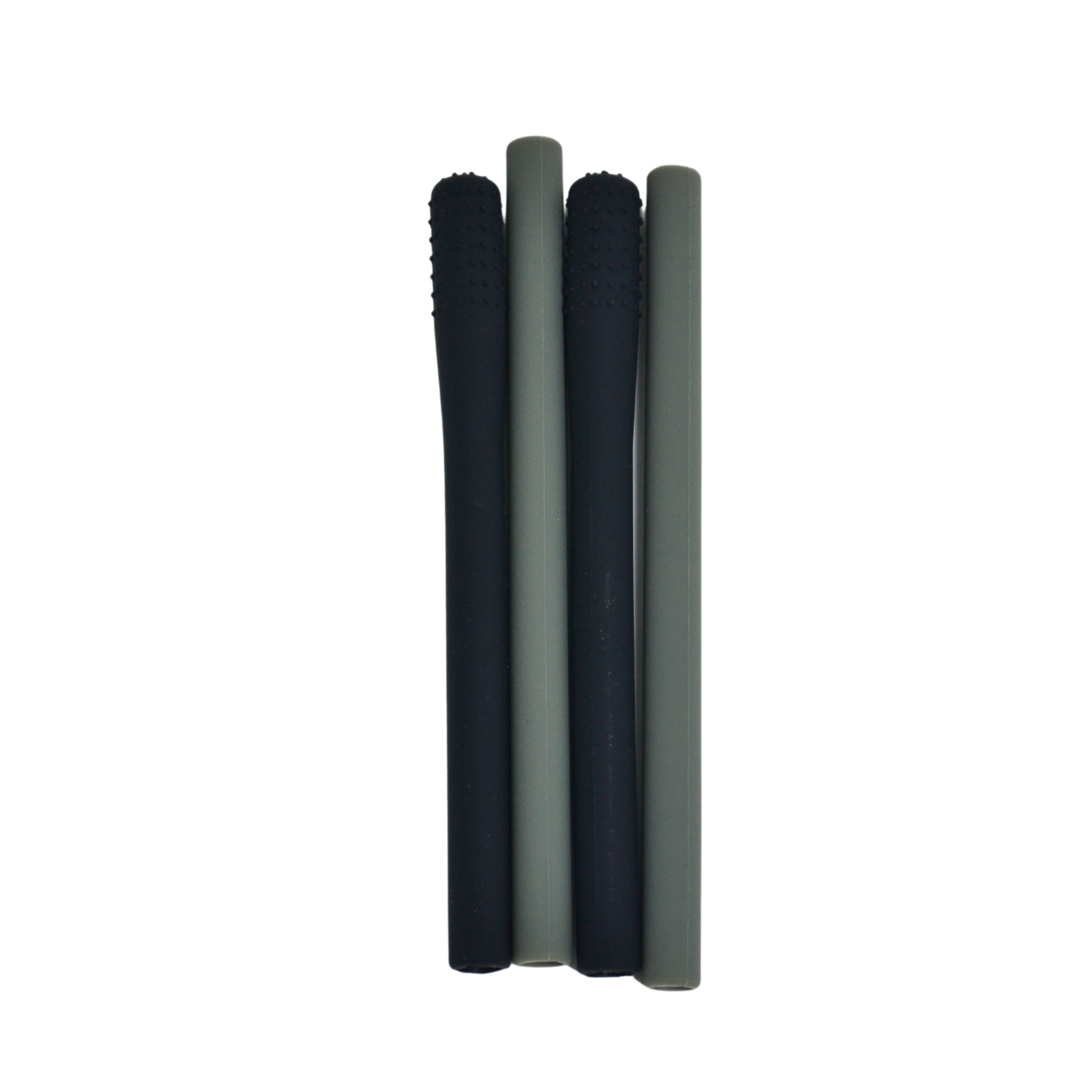 Chewigem - Pencil Covers Sensory Chew - 4 Pack
So many pencil toppers are heavy and can affect writing adversely, these covers are so lightweight you won't even know they are there.
We knew we wanted to provide pencil 'toppers', chewing pencils and pens is such a common challenge in our community, but having consulted with occupational therapists and specialists we spotted a gap in the market. By their very nature pencil toppers add weight to the pencil. If they are going to be chewed then how thick they are becoming important, but not at the cost of causing writing fatigue or adversely affecting writing skills due to the extra weight. Some benefit from that extra weight, but many find it prohibitive.
Lightweight
Tight fit
2 Covers with a smooth soothing texture
2 Cover with stimulating sensory bumps
Adaptable – the open cover is great for headphone wires
90% of people say Chewigem reduces their anxiety
But the functionality does not stop just at them being pencil covers, our ever-inventive community has used them to cover headphone wires, to ping, flap, and twist as a fidget aid, and even use the open over as a straw.
| | |
| --- | --- |
| Durability | |
| Flexibility | |
| Firmness | |
| Wearable | No |
| Fidget | Yes |
| Chewable | Yes |
| Cord Type | No Cord |

Once damaged, Chewigem should be discarded and replaced.

All products through chewing will eventually show signs of wear and tear. How long that depends on a variety of factors and it can take time to find the right product for you.

As a general guide, refer to the lifespan tables for an indication of longevity.

Check regularly for damage.

All products have been widely tested and you can be confident they are lead, latex, PVC, and phthalate-free.
In children and any person with a learning disability, that does not understand risks, it is vital all products should be used with supervision and checked regularly for damage.
As soon as wear and tear shows, the product should be discarded. This means a tear or puncture that could cause a larger section to break off.

How to care for a Chewigem without a cord (e.g. Fidgets, handhelds & bangles)

You can wash these using any of the below options:

Hot soapy water
Top rack of a dishwasher
Steam steriliser
Microwave steriliser
Sterilising solution



How to care for a Chewigem with a cord (e.g. pendants, Toggles & necklaces)

You can wash these using any of the below options:

Hot soapy water
Washing machine on a low heat

By removing the cord the silicone section can be washed in the same way as a cordless product above.

Parts of the toggle strap are plastic and cannot cope with high heat and risks melting which is why we suggest the cord be removed.

This is simple, just unloop from the board. Once washed, reverse the process, reattach the cord, slide the clasp down onto the cord, tie a knot at the end and slide the clasp back up over the knot.