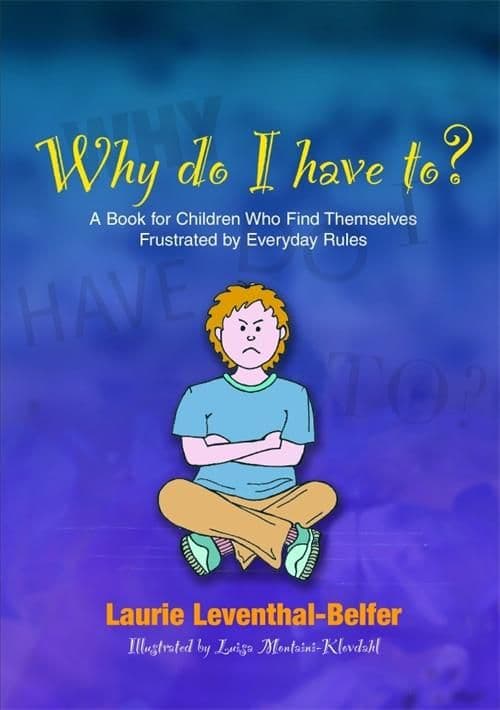 Book Title - Why do I have to?
SubTitle- A book for Children who find themselves frustrated by Everyday Rules

Author- Laurie Leventhal-Belfer
Illustrator- Luisa Montaini-Klovdahl

Description-
Why do I have to go to school before the show that I am watching is over? Why do I have to wear shoes and a jacket when I go outside? Rules like these can be really frustrating - but they don't have to be!

Why do I have to? looks at a set of everyday situations that provide challenges for children at home, with their friends, and at school. Laurie Leventhal-Belfer empathizes with children's wish to do things their way, explains clearly why their way does not work, and provides a list of practical suggestions for how to cope with these challenges and avoid feelings of frustration. This is the ideal book for children who have difficulty coping with the expectations of daily living, as well as for their parents and the professionals who work with them.

'If you want a child with Asperger's syndrome to comply with a social or family rule, it is very important to explain the logical reason to comply. Laurie's book provides the logic for compliance that will be invaluable for parents and teachers. I know this book will become regular bed time reading and be used many times at home and at school.'
- Professor Tony Attwood

'Dr. Laurie clearly understands how children with limited flexibility and difficulty coping think and respond. She has used her clinical experience to teach us how to help these children succeed. Dr. Laurie has provided a format, similar to Social Stories (TM), for reducing stress in daily life and for minimizing conflict stemming from unwritten or everyday rules. While there is no one solution for every child, the stories can be easily adapted for each child. She encourages children to be participants in determining solutions to their problems by providing simple, not simplistic, methods that work.'
-Teri Wiss, M.A., O.T.R./L., Director of Development is CHILD'S PLAY!