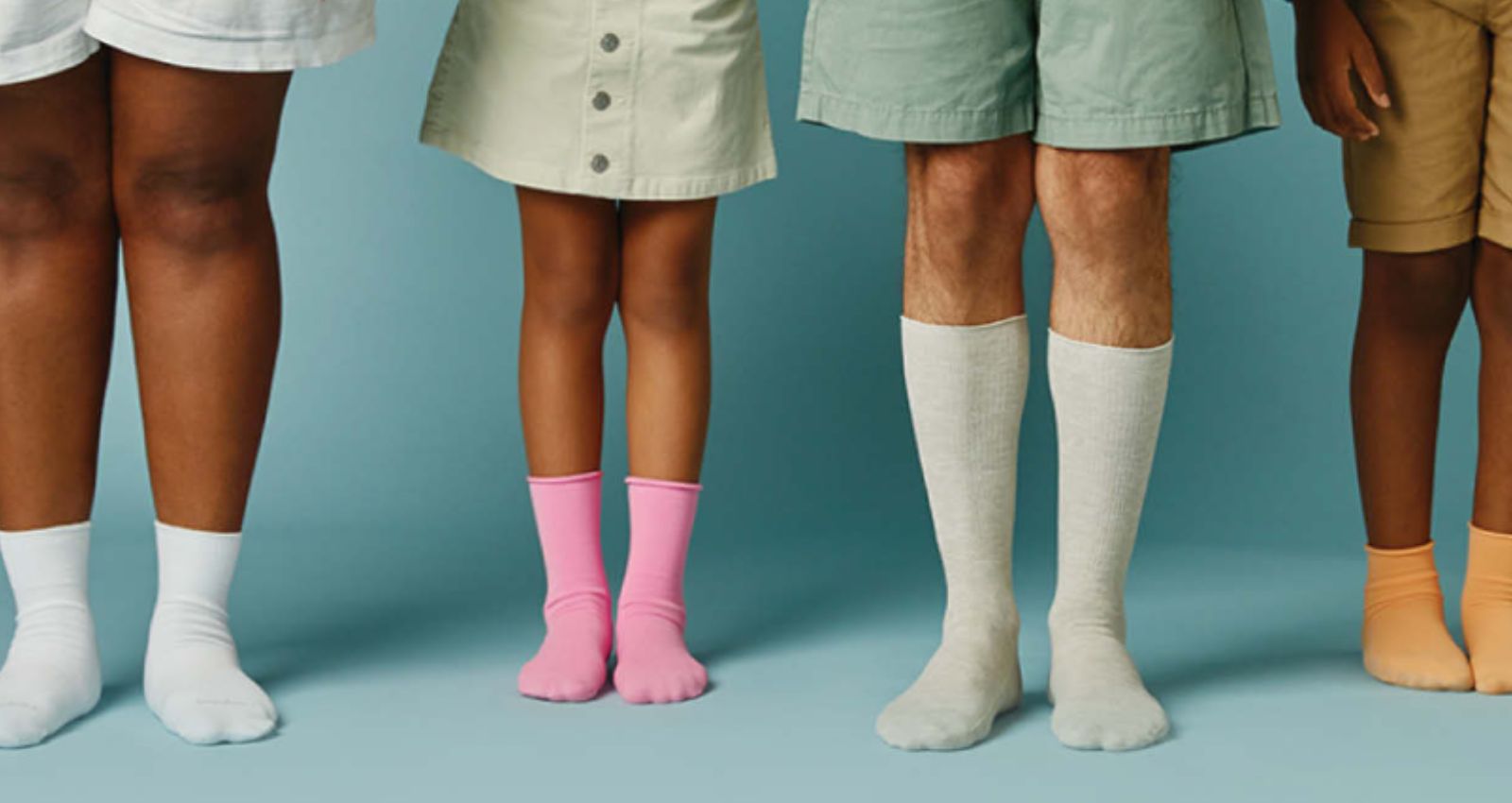 SmartKnit Kids socks - How the sizing works
Choosing socks is easy, isn't it? You just look for your shoe size and are done, right?
Well actually no, not always...
SmartKnit Kids Absolutely Seamless Socks are really special and they don't conform to the normal sock sizing that we're used to, and with good reason - they're BETTER!
These clever socks come in 5 sizes ranging from Small to XX-Large. The picture below shows you what they look like unstretched. Unstretched is the key word here, because they are VERY stretchy!
I've included a standard 30cm ruler in the picture to give you the scale.
Unlike regular socks, SmartKnit Kids socks are shaped like a tube - there's no heel pocket (that's what we call the stitching you usually find around the heel of socks that give them their normal "sock shape.")
There are two reasons for this - firstly it cuts down on the number of seams, and secondly, it means that one size of sock will fit lots of different-sized feet!
Yes, that's right one size of sock will fit lots of different sizes of feet!
How does it work?
Well because the socks are super-stretchy, and there's no heel pocket, it makes them very versatile.
Essentially, the bigger the sock, the longer it will be on your leg. And the smaller the size of the sock, the shorter it becomes.
For example, Helen in our office has ladies size 6.5 feet.
She can wear XX-Large as a crew-length sock, X-Large as an ankle sock or Large as a short trainer sock.
Because there's no heel pocket and the socks are so very stretchy, the smaller sizes still fit her, they just aren't as long on her leg.
Clever, huh?
At the other end of the scale, 6-year-old Ellie has size 10 feet.
She can wear a Large as a crew sock, she can go down one size to Medium as an ankle sock for summer, or she can jump two sizes up to XX-Large as a knee-high sock for school.
To demonstrate, here is a Purple Large and a Navy X Large on two of our dummy "stunt feet" which are approximately a size 3-4.
(And don't worry, that's NOT a seam down the side of the purple sock, that's just where it was folded, for some reason it shows up quite a lot on camera!)
So depending on what size shoe your child or teenager is, they may be able to comfortably wear 3 or 4 different sizes of SmartKnit socks!
Just choose the size depending on how long you want the sock to be.
Here is the size chart for these clever socks, which will hopefully make a bit more sense now!
This chart will tell you which size to pick for a normal CREW LENGTH  (mid calf) fit.
For Ankle length, go DOWN ONE SIZE.
For Knee High length, go UP TWO SIZES.
This guide is approximate, because we know that some kids have very slim or wider feet and legs than others, but it's pretty accurate most of the time.
If in doubt, order two different sizes of socks to see which one achieves the desired fit, and simply return the ones that aren't quite right.
Watch SmartKnits' helpful sizing tutorial video to see for yourself how they work 
And if in doubt, just ask. The Sensory Smart team know everything there is to know about these magical socks!